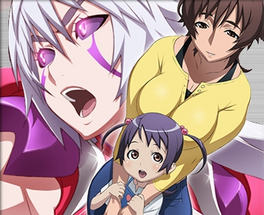 The Witchblade anime series would be correctly known as the Japanese Anime Witchblade Series or ウィッチブレイド, (Uitchibureido) which was created by Top Cow Productions and GONZO/CBC, which is a currrently an acclaimed animation.
Region 1 and 2 DVDs are available in 6 seperate Volumes. Volume 1 having been released in September 2007. There is also a full boxed set containing all 24 episodes and an extra disc with special features. Included on the DVDs are interviews with the voice actors/actress'.
Top Cow Productions own the credits to the original story so the story, facts and lore is very true to the original Witchblade concept. However, the storyline differs from the original comic series.
Staff
[
]
Planning: Arthur Smith (GDH), Kenji Shimizu (Sky Perfect Well Think), Naotsugu Katō (CBC), Taitō Okiura (Gonzo)
Executive producer: Koji Kajita
Original story: Top Cow Productions
Series composition: Yasuko Kobayashi
Character design: Makoto Uno
Conceptual design & setting research: Shinya Ogura
Design works: Kazuyuki Matsubara
Art director: Junichi Higashi
Color design: Yūko Satō
Editing: Kiyoshi Hirose
Music: Kazunori Miyake, Masanori Takumi
Sound direction: Jin Aketagawa
Sound effects: Katsuhiro Nakano (Soundbox), Naoto Yamatani (Soundbox)
Producers: Osamu Nagai (GDH), Shin Hieda (SKY Perfect Well Think), Tsuyoshi Okazaki (CBC)
Director: Yoshimitsu Ohashi
Animation production: Gonzo
Production: Chubu-Nippon Broadcasting (CBC), SKY Perfect Well Think, GDH
Prologue
[
]
"Long sought by the greed of men since the dawn of human kind, but only bestowed upon the women whose fate it forever scars... The Witchblade. Is it the righteous sword of God, or hand of the Devil himself? Now a new bearer has been chosen. And she must discover the answers for herself. As she stands on the brink of destiny, she is forced to seek the balance between ecstasy and ruin."
Gallery
[
]