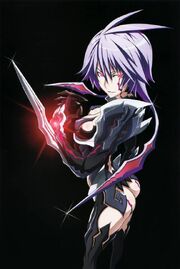 Yuri Miyazono (宮園 由梨 Miyazono Yuri) is the newest Witchblade user in the new novel Witchblade: Lost Generation (ウィッチブレイド 碧の少女). She is a sick 15 year old girl who uses the Witchblade to keep her alive and for her own protection and she received the Witchblade after Takeru Ibaraki from the first novel.
Novel history
Edit
When a 15-year-old girl, Yuri Miyazono, who lived a recuperation life with an incurable disease, wished at the abyss of death, it suddenly appeared. The strongest weapon witchblade with the intention to fight oneself. The wearer is chosen only for the special women who have been chosen as weapons themselves since ancient times. The WitchBlade brought a pleasure and a mighty combat power that had not been experienced by the girl before. And the mysterious cyborg soldiers who appear attracted to her presence. The pretty girl who just wants to live is caught in the whirlpool of a violent fight some day.
Etymology
Edit
The name Yuri means "reason, cause" (由) (yu) and "pear" (梨) (ri).
Yuri's surname Miyazono means "temple, shrine, palace" (宮) (miya) and "garden" (園) (sono/zono).
Community content is available under
CC-BY-SA
unless otherwise noted.